Boston Nightlife, Nightclub News & Events brings you the best nightlife choices in the Boston area!
Grand Opening Studio 20 DiscoTech, Bad Girl Kate, Designer Drugs, Roxy-Washed Up Hollywood, DJ's, Red Sky, Greatest Bar, Felt
Studio 20 DiscoTech
Grand Opening Invitation!
As subscribers to BNN you are invited to the Grand Opening!
Please Print out Invite and bring it with you!
---
Studio 20 DiscoTech
Finally, the concept and music you've been looking for at a venue right outside of Boston!
Join Spanky from KISS 108 and local Bad Girl Kate Marie from The Bad Girls Club new season premiering Dec 1st!
Come early!
Studio 20 DiscoTech – Flashback Fridays
---
The Place
Epic Nightlife..continues!
It's Boston nightlife at its best 7 days a week!
Book your next party at The Place!
LOTS OF FRESH PHOTOS THIS WEEK!
Click Here for weekly schedule
---
NE Events Presents: Temptation Thursday
Dress to Impress – 21 +
Music- House/ Top 40 / Mashups / Hip-hop & Favorites
More Info Contact
Chris Angel 617 970 8739
Free Admission
---
Local Bad Girl Kate
Kate Marie is a local bad girl appearing on this seasons The Bad Girls Club.
Come meet Bad Girl Kate at the Grand Opening of Studio 20 Discotech this Friday night!
Kate invites you to her Viewing Party for this seasons premier episode of The Bad Girl Club at The Greatest Bar on Dec 1st!
---
Nightlife Network Presents
For Party Packages / VIP Tables / Guestlist
Voice / Text Chris Angel 617 970 8739
---
Boston's Biggest HIGH DEF Screen!Patriots, Bruins and Celtics ALL on the largest HD Screens in Boston! All the Games & Events!
Something HAPPENING Every Night!
All the SPORTS Action you can HANDLE!
---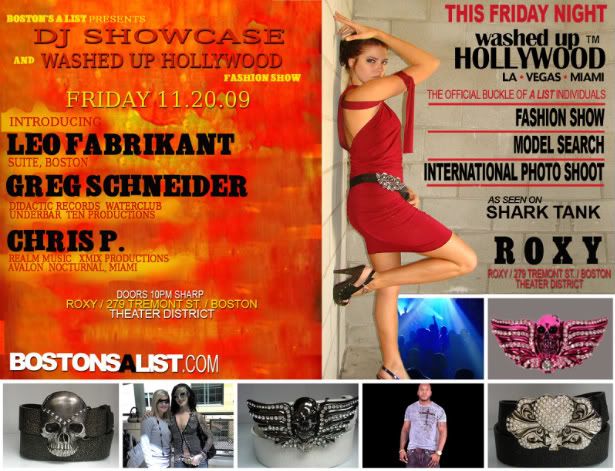 Boston's A List Presents:

DJ Showcase and Washed Up Hollywood

 
Boston's A List
@ Roxy Fridays – Click here for more Info!
---
Felt
Felt is Boston Nightlife!
4 Floors of GLAMOUR. SEXY. FUN.
Please contact Danielle to book your Saturday Night private event on the 3rd floor at
Danielle@FeltClubBoston.com
---
Future Classic Presents:
Designer Drugs – Live @ Ivy
For more information and tickets – CLICK HERE!
This is a MUST SEE event!
---
Reservations: 617-224-2800
Use this coupon courtesy of Sammy and Boston Nightclub News and save $!
PRINT OUT This Flyer for a Complimentary VIP PASS Before 11:30
---
Harris Limousine – Book your Holiday Limo!
Excellence in Customer Satisfaction – Guaranteed!
Harris Limousine serves Greater Boston and Southern New Hampshire..
Give us a call today and let us show you the Harris Limousine difference.
---
Get on the Party Bus 80's Style!
Boston's Party Bus of CHOICE for over 10 Years!
It's an all out 80's themed party bus! No one does a party on wheels like the boys from Bustonian!
Thank you Brian and Matt for over 10 years of shenanigans and hijinx!
CALL THE BUSTONIAN – 1- 866 – GO – BUS – GO
Bustonian Party Bus CLICK HERE
---
UMBRIA VIP Pass Saturday Nights
Reservations: 617-224-2800
PRINT OUT This Flyer for a Complimentary VIP PASS Before 11:30 – Courtesy of Boston Nightclub News!
---
Awesome 80s Prom
Groups and Bachelorettes!
This is hilarious!
Experience the 80's Music & Style for your next group or girls night out!
Try something different this weekend!
---
Studio 20 Saturday Nights!
Classic House & Dance Music with Adilson!
Grand Opening Weekend – Next weekend!!
---

Don't Just Advertise….CRUSH ITAffordable New Years Eve PackagesCall Joe today at 978-815-3291
We have the network you need to get to your New Years Eve Target Market –
We reach the people you want to get your branded message in front of!Learn About Media Crush – CLICK HERE

…Time for you to find out how to advertise on the largest targeted online advertising network in Boston!
---
The Bustonian Legendary Patriots Tailgate Parties!
The Jets get grounded this week!
Get on the Bus!
Make your reservations TODAY!
The Bustonian Boys have everything ready for the most memorable tailgating experience you'll every have!
Patriots Tailgate Parties – CLICK HERE!
---
Looking for a Group Event!
Getting Married and Looking for a fun night out with family and friends?
Ask about our Bachelorette Parties!
CLICK HERE and Reserve you Tickets NOW!
---
 WB's – 25 cent drinks!!!
Voted New Hampshire's Best Dance Club 2009!
Thursdays College Night – College ID gets you 25 cent drinks! $2 Beers all night long for everyone!
Music provided by DJ Bob!
Saturday Night….
The best place to dance and mingle in the city 3 years running!
Ask your bartenders – We have ridiculous specials every night!
Call ahead for table reservations: 603-641-2583
Wally and Bernies ManchVegas – CLICK HERE
---
E- Room
Brookline – Dance, Drink and Nosh Till 2am!
The Golden Temple -Gorgeous!!!
The perfect place to start, end or stay for the night!
DJs and Dancing in the E-Room every Thursday, Friday and Saturday Nights until 2AM.
10 Minutes from Fenway at 1651 Beacon Street.
---
Boston Bachelorette Parties
 It's NEVER to Early to Plan the ULTIMATE Bachelorette Party!
---
Nitelife Network – NLN
Now Hiring.., Vox, The Greatest Bar, Wally & Bernies. The Place… …and many More
CLICK HERE to search Employers!